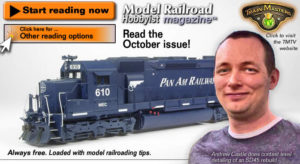 Andrew Castle has an article in the October, 2014 issue of Model Railroad Hobbyist on-line magazine.
"I saw my first blue-painted Pam Am Railways locomotives on a 2011 trip to New England. During a stop in Waterville ME I saw MEC 610 waiting to depart with a southbound road freight, I only had time for a quick snapshot of the train, but further railfanning trips to New England convinced me I needed to model one of these units."
You can read the article by clicking the image at the right, or download the PDF here.  Then skip to page 67.