This post goes along with the Turnout clinic that Chris Mears, Taylor Main, and Scott Jay presented at the 1st (hopefully annual) Maritime Prototype Modelers Meet held on June 27, 2015.  It is not necessary to have attended the clinic in order to learn how to build a turnout – this page should provide the resources anyone would need to learn how to build a turnout on their own.
Everyone has their own processes and methods for making turnouts.  Here are links to 3 step by step guides…
---
Fast Tracks
(
www.handlaidtrack.com
) is a great Canadian company that provides supplies and tools for the turnout maker. They provided lots of complimentary supplies for the clinic. Thanks Fast Tracks!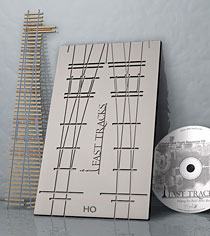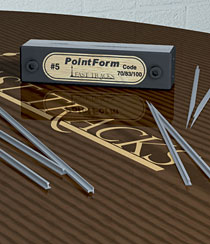 Their point form tool was used quite a lot during the clinic. You can file frogs and points by hand but it is time consuming and difficult to get an accurate angle. The point form tool makes it a simple task that is easily reproducible. Fast Tracks have other tools to make the process of building turnouts much easier.
Rail soldered to PC board ties ensures they will remain in gauge for a lifetime. Fast Tracks has a wide assortment of PC ties, wood ties, and rail of all gauges.
The turnouts during the clinic were assembled over paper templates but if you wish you could purchase a turnout jig (called assembly fixtures) from Fast Tracks that makes it a lot simpler to assemble a turnout. The jig has slots where ties and rail fit in to maintain gauge and should make the process a lot quicker. They only work for one size of turnout (both right and left) and are relatively expensive though so would be most economical if you had several of the same size turnouts to build.
DVD's were provided by Fast Tracks for the clinic. If you did not get one you can view all the videos on their YouTube Channel.
---